About
Sudie's is a family-oriented, family-owned restaurant that offers delicious seafood and homemade Southern dishes. Opened in 1983, Sudie's Catfish House in Pasadena, TX, became a local favorite, serving tasty Mississippi farm-raised catfish, a Sudie's staple. Under the ownership of the Bailey family, Sudie's remains a family affair with Clay Bailey taking over the reins from his father, Paul. Sudie's has also become a popular spot at the Houston Livestock Show & Rodeo, serving patrons at our mobile location for over 15 years.
Old Fashioned Recipes
Our quality catfish, pairs great with our other seafood specialties such as our hand-butterflied and hand-breaded fried shrimp. We are also well known for our signature items such as fried green tomatoes, fried dill pickles, and amazing hot boiled crawfish when in season.
Various Services for Any Sized Group
Large banquet room
Catering services
Bulk food orders
Sudie's Catfish Club Rewards Program
Join Sudie's Catfish House's rewards program and get valuable coupons and promotions sent to your email. Follow the link here to sign up now or ask your server for a sign up form during your visit!
All information is used in-house and only for the rewards program purchases. Ask your server or contact Sudie's Catfish House for details.
---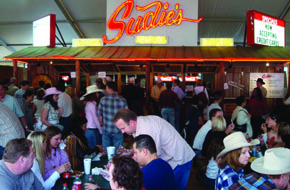 Happy Customers
"Enjoyed Saturday lunch with my husband. Great food and excellent friendly service. We ordered catfish, fried oysters, and stuffed crab and the best fried green tomatoes ever."
- J. Gray
"From the moment my husband and I walked into Sudie's till the moment we left, the staff provided prompt, excellent service!!! The appetizers were plentiful (they did not skimp on the amount) which impressed me. We had the calamari which was lightly battered and a fondue sauce with tiny toast that was amazing!!! The fondue sauce was great on the bread, the calamari and even the fried catfish. This sauce is called the Magnolia Sauce which the owner/manager told me "they could put on any dish" you desire. My entrée was blackened catfish smothered in a sauce with crab and crawfish. It absolutely melted in my mouth. Thank you so much for wonderful dining experience!"
- S. Maulding